arsis
In 2013 i had the opportunity to work with ARSIS – Association for the Social Support of Youth which is a Non Governmental Organization, specializing in the social support of youth. This period ARSIS coordianted a program which was called "Network of social structures to combat poverty in the Municipality of Thessaloniki" .The program includes the creation of a network of eight social structures to support individuals and families that are affected economically and are unable to meet basic biotic needs. One of them was Time Bank and I was there to offer my skills!
arsis – time bank – sympraxi
In arsis i worked as a web-developer, IT support and many other computer things… but also i did my first steps in creating posters, flyers, christmas cards and etc.
Below i have categorized my work with some comments for each one, be curious and explore!
1. arsis
a. Poster & flyer calling for volunteers in arsis.
– In the poster i used arsis's logo theme (buildings) and a chalkboard background in order to connect learing and offering values which a volunteer/intern can gain participating in arsis team.
– In the flyer i again used the same motivo with the poster but i added some more color and useful info about arsis. The first page of the flyer was cut in the middle, so it could be opened like a newspaper.
b. Poster saying thanks but also calling for collecting clothes and other essentials goods for the Syrian refugees. In this poster i used as central theme the Syrian flag connected it with message we wanted to provide.
c. Poster calling for second hand home furnishing. In this poster i used vector icons of the furnishing we were asking and I tried to "play" with the main text resulting in a interesting layout.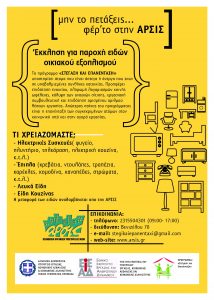 d. Another project that we started in arsis was a new web page (this is a still an on going project.. now as a volunteer). Below there are some icons i have made for the new site. The top 4 are buttons that by clicking them the user explore each city arsis structure's. The 5th is a button that by clicking it the user can watch what are arsis needs. The other 3 (6th-7th-8th) photos are central page slider photos.
1. Time Bank – "Network of social structures to combat poverty in the Municipality of Thessaloniki"
a. Poster & flyer for Time Bank
– This poster was actually my first one. I tried to play with the letters of Time Bank connecting it with icons of town, people, sky, clocks and etc
– In the flyer i used the information motivo of a small icon that connects each text meaning.
b. Poster calling for collecting goods in order to provide those to two of the Netowrk structure's (social Grocery, Homeless Dormitory). In this poster i  picked an abstract background and i used typefaces that are connected with the food industry.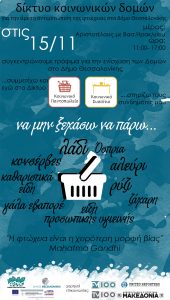 c. This kind of small poster was for advertise Time Bank presentation in the local libraries of Thessaloniki. In this poster i used a minimal presentation and only two colors (gray and orange).
d. Poster for celebrating Time Bank's first birthday with workshops and special events.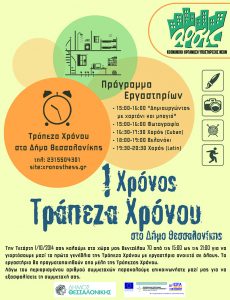 e. Poster for the Soup Kitchen structure.